---
Welcome to Catholic Schoolhouse of Harford County, Maryland!
Catholic Schoolhouse is a supplemental program designed to enrich homeschooling families through a flexible, classical approach to learning, presented in a structured environment.
All students, preschool through high school, study the same topics, creating family unity.  The whole family has a place at Catholic Schoolhouse.
Older students, in the dialectic and rhetoric stages, meet for discussion and activities that are best done in a group setting – all focused on helping them become faithful Catholic adults.
Catholic Schoolhouse is more than a day out of the house. We offer academic unity within the family and regular opportunities to interact with a faithful Catholic community, both academically and socially, within the chapter.
As an affiliate of Maryland Catholic Homeschoolers, Catholic Schoolhouse of Harford County is able to offer umbrella services to our families. Families are not required to utilize the umbrella to participate in CSH.
Catholic Schoolhouse is loyal to the magisterium of the Roman Catholic Church and all three tours have received the nihil obstat and imprimatur.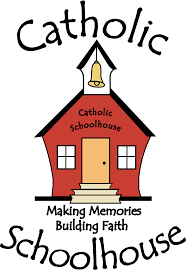 The mission of Catholic Schoolhouse National
Empowering families to share Catholic culture. At Catholic Schoolhouse, we bring families together, allowing them to share and experience immersion in a loving Catholic Community–a community that strives to grow in virtue and holiness. Together, we encounter the true, good, and beautiful while forming tomorrow's Catholic adults to be light in the world.
The mission of Catholic Schoolhouse of Harford County
To support Catholic homeschooling families interested in classical education through community, curricula and structure.